OOAK art baby doll limited edition
OOAK art baby doll limited edition
Hello! I 'm Natalya Kovaleva.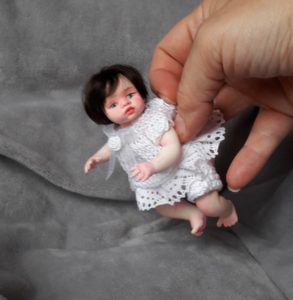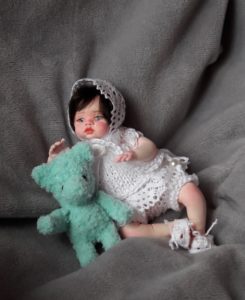 This is an author's OOAK baby doll,mini reborn doll, cast from polyurethane (rezin), according to my author's model, varnished with UF filter.


These are amazingly beautiful miniature dolls made of polyurethane. They are cast in a limited edition according to my author's model. The doll has a soft body made of fabric, filled with glass granulate and syntepuh.
The doll is very mobile, can take any poses. She is so sweet and will bring joy to you!
The doll has outfits – a dress, panties,socks and bandage.
She is so sweet,realistic baby doll, and will bring joy to you!
Very beautiful baby !! So well done and pretty .
Why did I decide to cast such dolls? This is the first casting with which my short-run dolls began. Before that, I made dolls made of polymer clay. But a polymer clay doll requires careful handling. There were cases when the doll was damaged during shipment. There were also cases when polymer clay dolls were bought for children to play, and the doll broke during the game. Fingers broke especially often, because they are so tiny!
Thank you for looking.
So I made such a doll out of polyurethane. It is very durable and light. She is not afraid of falls and will not break when playing. At the same time, the doll is collectible, and one of a kind , OOAK art baby doll limited edition.
Please, look at my doll https://kovalevadoll.com/